The Invitation review – cult and catharsis meet in Karyn Kusama's suspenseful film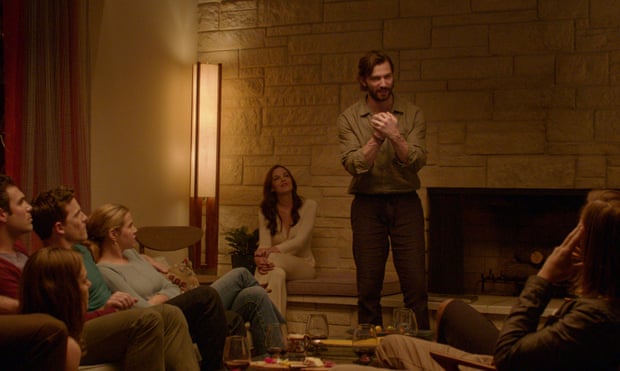 Tags:
USA
The Invitation review – cult and catharsis meet in Karyn Kusama's suspenseful film published by Evanvinh
Writer Rating: 5.0000
Posted on 2016-04-12
Writer Description: Evanvinh
This writer has written 733 articles.

I guess I don't live a cinematic life, as the worst thing I've witnessed at a dinner party was someone making off-color jokes. But Karyn Kusama's extremely tense and elegantly shot suspense drama The Invitation exists in a very specific world: the wealthy peaks of the Hollywood Hills. The evening starts with our kindly, bearded thirtysomething lead Will (Logan Marshall-Green) hitting a coyote with his car and morosely bashing its head in to euthanize it, and it only gets more uneasy from there.
Eden's mid-century modern home is in a wooded area close enough to see the Hollywood sign and has a confusing, split-level layout. With just the right amount of dialogue and memory flashes – kudos to writers Phil Hay and Matt Manfredi for treating us like adults – we put together that Will, arriving at the party with his girlfriend Kira (Emayatzy Corinealdi), used to be married to Eden (Tammy Blanchard), but they divorced after their son died. It has been two years since a large gang of old friends has been reunited, and this night, as if by decree, will be one of healing.
Among the other dinner guests are a goofy ex-business partner, an energetic gay couple, an Asian American friend who wishes she was "there" more, and a now drug-free former music exec, David (Michiel Huisman). David has moved into Eden's home (where Will used to live), but they spend some of their time in Mexico. While there, they met Sadie (Lindsay Burdge), who is currently staying with them, and it only takes one glance at her to know that she is trouble. (For starters, she is naked from the waist down.)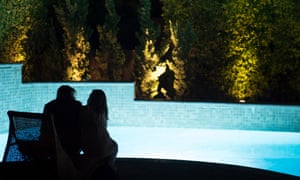 her eyes that presents false happiness, while David and Eden (wearing a form-fitting white gown as all this expensive red wine is poured) are perhaps a little too calm. Everyone seems to be going with it, even after the broad, doughy Pruitt (John Carroll Lynch), who doesn't quite fit in with this stylish gang, shows up. Everyone but Will, that is, whose guard is up as soon as he sees David lock the front door. In time, we'll learn that Eden's mellow demeanor is due in part to pills, but also to her involvement with a spiritual group called the Invitation, and why don't we all watch a promotional video featuring a young woman dying of cancer as friends surround her and recognize her spirit. Hardly the typical vacation pics.
The Invitation's slow burn allows for every combination of party guests to slink away to the next room for a chat, which quickly gets tiresome. What's most interesting is sticking with Will, whose fight-or-flight response is in overdrive. He knows something fishy is going on, but his hope to attend this dinner and be civil keeps him in check. He wishes he could be like the others, happy that Eden has found some kind of peace, but there are too many little things that don't connect. (No cell reception and no landline? That can't be good!)Kusama's ability to keep the action all very realistic is to be commended. It's only in the final 15 minutes that we start to get our genre-picture payoff. While some viewers may complain that the action is too heavily weighted toward the ending, I'd argue that this is a strong example of destination-not-the-journey film-making. Admittedly, awkward social restlessness masking long-repressed explosions of grief isn't exactly the most uplifting way to spend a night at the movies, but both cult members and commoners agree that we have to get these feelings out into the open. Here's hoping your catharsis goes a little more smoothly.
Tweet
Sources:
http://www.theguardian.com/film/2016/apr/05/the-invitation-film-review-karyn-kusama-suspense
You have the right to stay anonymous in your comments, share at your own discretion.